Sylvie Fortin – The Earth has lost an Angel today
On March 16th 2015, the earth has lost an angel.
My dear friend, Sylvie Fortin, one of the most impressive women I have ever met, is now blessing the heavens, the angels and the star people, while she is dearly missed here at home.
Well, and by now, she has probably already begun to get them all lined up and organized, so that they don't just sit around on their clouds wondering if there is work to do down here, but they know their tasks, put stuff in their calendars and return those calls for help within 24 hours…
Sylvie is, after all, a customer care guru!
Truthfully, I have met Sylvie and her husband Michel only twice, and both times, they were presenters on a big stage, while I was in awe, sitting in the audience, being deeply transformed – in an internet marketing conference!
This is not the place where we expect transformation, but that would be Sylvie: Spreading her kindness, her caring, her profound insights and enormous skill set in such a caring and considered, yet no-nonsense way, that I couldn't help but wanting to grow up to be her some time.
It was in 2010 at Armand Morin's "Big Seminar" in Las Vegas.
It was my second marketing conference, and the first one of this caliber.
I was in awe seeing the millionaires in the room, the level of the presentations, and the tips and strategies that were being shared.
Quite frankly – I was starstruck, not knowing where all this could possibly lead me, me, a woman with a dream and a vision, but not the income yet to show for it.
I followed presentation after presentation from people in either dark business suits or, internet guru style t-shirts and jeans, not knowing which program to buy, which advise to follow, and how all this relates to me. It was indeed a BIG seminar for me.
And I felt small at the time. Very small.
Because I had a feeling of greatness, but absolutely nothing to show for it. And I didn't know how to change that.
And then the stage changed.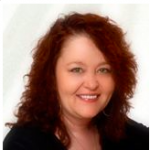 The next presenter who came up was wearing – yes, a business suit and heels, but that was just about as far as she wanted to go with fitting in. She meant business. She had work to do.
She was there on a mission explaining to us how customers should be treated to remain comfortable and create a large base for our businesses.
Her red hair was open and curly, and she was high energy in the most loving and motherly way.
Simply put: She was just NICE!
And then she shared her story: How she had bootstrapped her way to a two million dollar business!
That got my attention. It was right down my alley. I loved her more for her openness and authenticity.
She had worked day and night, engaging and leading a huge team of mostly women who also shared her dream of creating something big, a platform for customer care and an online knowledgbase where they could create their dream of independent entrepreneurship.
Sylvie talked about dedication and very hard work, about buckling down and getting the job done.
She was grounded and fun to listen to. And she made it incredibly clear that she was a force to be reckoned with, and had earned her place in serving some of the biggest internet marketing businesses we know.
Sylvie was the woman I could relate to, I knew that I could be her. I knew I could create a two million dollar business if I simply stayed focussed on what I needed to do and bootstrap while creating the relationships I needed.
We all need role models, and Sylvie transformed the stage, the audience of 1000 attendees. She transformed me.
I will never forget the meltdown I had after gathering all my courage and introducing myself to a presenter that felt completely out of reach for me:
I was tired of volunteering.
I was tired of playing small.
I was tired of giving my services and knowledge away for free.
At the late afternoon of day two, I found myself wandering around the outdoor area of the M-hotel in Las Vegas, in awe of what I was feeling and experiencing.
And I made a commitment to myself that I have never broken since:
"I will never, never, never be small again!"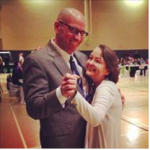 I saw both Sylvie and her husband Michel at another conference in Los Angeles just a few months later, and both radiated such warmth, such incredible joy in sharing everything they knew, a love to detail and excellence, that I immediately jumped on their offer to have personal access to them for a year.
I was to starstruck to ever send those emails that I had intended to send, but it felt good to be connected and use their huge database of "workaholics4hire.com"
We all have learning curves when it comes to working with mentors. This was one of mine :-).
About two years ago, I learned through facebook posts from Michel Fortin,  that Sylvie had a cancer recurrence.
A breast cancer survivor myself, this news struck me deeply.
They gave her months to live and had asked her to get her affairs in order.
I remember the shock and the helplessness that I felt when this news broke through.
Sylvie being Sylvie had already organized the help they would need:
Edible arrangements were her favorite, so if wanting to bring sweets: please bring those!
Or dark chocolates! She liked those, too.
She had taken charge of the situation, determined to call the dreadful time line bullshit, and live for as long as she wanted to live.
I packed a big box of chocolate covered pretzels and homemade fudge,
remembering from my own journey how amazing it is to have support from strangers.
I think this is the first time that we personally connected.
Sylvie and Michel were clear that they were going to take full advantage of the best that top notch medicine had to offer.
They weren't going to cut corners, and they didn't want to try anything that hadn't been scientifically tested and approved by their doctors.
Sylvie gladly did the chemo treatments
and everything else she was recommended to do, and the months passed while she was working on beating the odds. And beating the odds she did! By almost 2 years!
She was furious at the Doctor who told her to get her affairs in order, because she knew better what she needed to do, what was going on in her body and that she could have what she wanted if only she would, once again, buckle down and focus on getting the job done.
She was right.
Even though it was a tough route, it was the only one she could have taken, given her specific diagnosis and the type of rare and extremely aggressive cancer that she had.
We connected a few times via text, until I shared with her, that I also had just received the news of a cancer recurrence.
My own path was going to be very different, as I was taking the drug that the doctor recommended, adding an intense holistic regimen of at least 25 different modalities.
Sylvie didn't want to hear about it, but, being German, I shared it anyways 🙂
Germans share unsolicited advise as a sign of caring, not because we think that we know better.
Not telling her what I was trying to do would have been neglectful and rude.
Sylvie, all customer service, gracefully thanked me for my sharing – and then she did it her way.
I love you Sylvie! You always knew exactly what you wanted, and you were strong in executing what you knew was right for you.
Over the next year, we have texted many times. Sometimes just joking around, sometimes being serious.
She always had a  sense of decorum about her.
She was clear in what she wanted and why, and incredibly honest and warm with those that she touched.
Her Facebook posts were encouraging for others.
She accepted leadership. She didn't want others to worry. She was one of the most positive and empowering women you'll ever meet.
She wanted to be the light bearer for them, talking about this sucky situation she was in, with humor and a positive outlook.
She never let herself get carried away with self pity or anger.
She was determined and focussed instead, knowing that she had to do whatever she had to do to stay in this world with her amazing family and her husband Michel Fortin.
Her last message for me was last week from the hospital:
"Yes, I am here for the foreseeable future. I'm afraid. Tides may turn in my favor but for now, I need to remain under careful watch. My liver needs a lot of rest and we need to allow the various meds to clear out completely and see if that helps improve."
Always Sylvie. Always a plan. Always focussed. Gosh I love you for this!
When it became clear that she might not have very much time left, her beautiful son and girlfriend decided to get married in the hospital, within two days.
They just got a justice of the pace, gathered the family and let Sylvie be part of the most touching wedding that I have ever heard of.
Her daughter in law Prija shared this special day with all of us on Facebook:
"Today was a tragic, yet amazing day. My beautiful mother in law has been battling cancer for the past 9 years.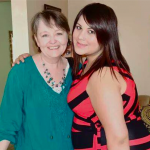 Over the past week, she has been in the hospital fighting for her life. Today at 11:00 am my boyfriend and I got married in the hospital room, right in front of Sylvie. She hadn't opened her eyes since 2:00 am, but when our vows were being exchanged, she did.. About 10 to 20 minutes after the wedding was done, Sylvie took her last breath. She held on, and put up the best flight a person could have fought. We will all miss her so much, she was always the light of the room. Always. She's a hero to many and she will never be forgotten. Her life will be celebrated, not mourned, just as she would have wanted. Love you mom."
It took me a day to find words.
Really, there are no words.
There are just stories that we can share about someone we loved and cherished, even if the connection was unusual.
I love you Sylvie.
Be gentle on those angels….
You are missed…..