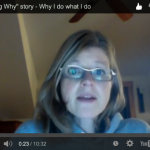 I have never shared this in public, but it has become more and more important to me to make people understand WHY I do what I do.
It is so easy to see the outside shell of others: The perfect website, the polished social media presence, the styled videos with the flawless scripts that are so ever impressive.
But in all reality, it isn't always that easy. We all have our stories that we usually don't share.
I know I have mine.
And last week, I was challenged by my mastermind group, to create a video that explains WHY I do what I do, WHY I am passionate about my work, and WHY I feel called and so deeply connected to helping others become a success… Read more…
Read More