"Operation Emotional Freedom" documentary now released!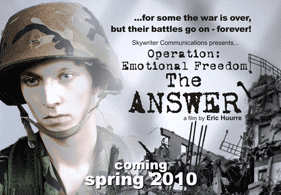 EFT is a powerful tool to release war trauma. In March 2008, five EFT practitioners were invited by Gary Craig, the founder of EFT, to work with eleven Veterans and family members. The work was documented in film as a documentary, as well as a researh study, which was published in "Traumatology" in January of this year.
When you go to the official website of "Operation Emotional Freedom", you will se several film trailers that give you a feel of what this work is all about.
The final movie took Producer Eric Huurre almost two years to complete, and it is now available for purchase and download.
As one of the practitioners who filmed in San Francisco, together with Carol Look, Lindsay Kenny, Lori Lorenz, and Sophia Cayer, I have worked with many Veterans from all recent wars. EFT has been a blessing for many who have been traumatized by war, and it is an honor and priviledge to do this work.
I usually try to keep my blogs EFT4vets.com and EFTCoach.net separate in content, to be able to better support the different communities of people that I serve. However, I believe that this film is so powerful that you should know about it.
Get "Operation: Emotional Freedom" and support the work with Veterans.
Free EFT sessions are available for Veterans who are interested in supporting a research study that is currently underway through www.stressproject.org.
Please go to stressproject.org/research to read the recent study results. They are truly phenomenal and encouraging.
Here is a short traier of the film. I am looking forward to your feedback!